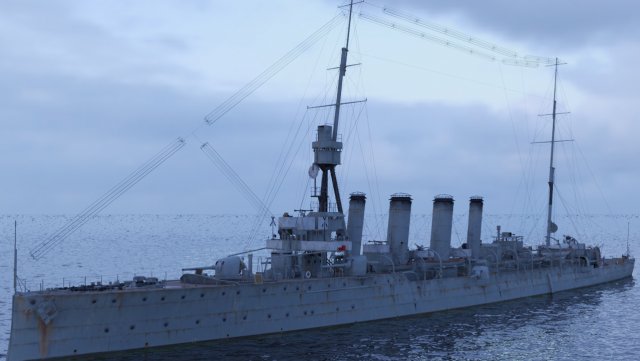 HMS Weymouth was a Town-class light cruiser built for the Royal Navy during the 1910s. She was the name ship of the Weymouth sub-class of the Town class. The ship survived the First World War and was sold for scrap in 1928The ship was laid down on 19 January 1910 by Armstrong Whitworth at their Elswick shipyard and launched on 18 November. Upon completion in October 1911, Weymouth was assigned to the 3rd Battle Squadron of the Atlantic Fleet and was transferred to the 2nd Light Cruiser Squadron in the Mediterranean in June 1913. In August 1914, Weymouth was detached to sail into the Indian Ocean to hunt for the German light cruiser SMS Emden, which was raiding Allied shipping in the area. In February 1915, she was operating off the East African coast as part of operations against another commerce raider, SMS Konigsberg, eventually trapping her in the Rufiji River until she could be sunk.Textures: from 256×256 to 4096x4096Diffuse, Specular, Opacity.
Categories: 3D Models, All 3D Models
Sorry, comments are closed for this item.