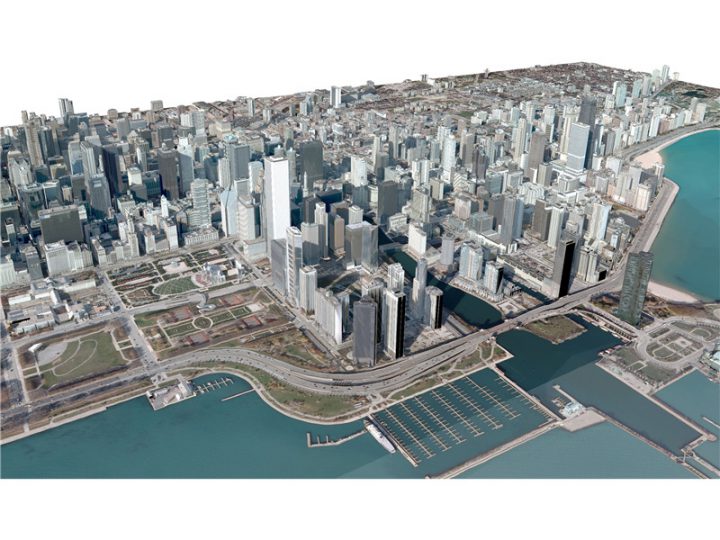 Chicago City 3D Model for 3ds Max, Maya, Cinema 4D, Lightwave, Softimage, Blender and other 3D modeling and animation software.This 3D model in projected spatial NAD83 UTM zone 16N planar Cartesian metric coordinates centered on XY-plane with Z-axis points up. Centering on XY-plane is required for correct rendering to prevent z-buffer floating point precision inaccuracy for every camera angle, zoom and position. To get true North American Datum 1983 Universal Transverse Mercator Zone 16N SRID 26916 coordinate reference system based on the WGS84 datum for calculations, if needed, simply 2D transform every vertex X coordinate by 447072,569881281 and every vertex Y coordinate by 4637250,26357862. All vertices in 64-bit double-precision floating-point format with correct DEM for ground elevation data and with correct buildings heights and positions. Entire scene bounds (in GPS coordinates): Top-Left corner (-87,69287109375 / 41,8286420018605), Bottom-Right corner (-87,593994140625 / 41,943148747327). 0.3 meters per pixel ground textures resolution. .OBJ is native file format for this 3D model. This 3d city can be used for many applications like 3d presentation, GIS data analysis or 3d printing.Includes: Chicago Historial Society, Gold Coast, Old Town, Cubs Care Park, Seward Park, Near North Side, Drake Hotel, Palmolive Building, John Hancock Center, Water Tower Place, Loyola Univ of Chicago-Water Tower, Museum of Contemporary Art, Lake Shore Park, Northwestern University-Chicago, Northwestern Memorial Hospital, Allerton Crowne Plaza Chicago, River North, Olive Park, Navy Pier, Intercontinental-Chicago, McGraw-Hill Building, Tribune Tower, NBC Tower, Merchandise Mart, Quaker Oats Building, Carbide and Carbon Building, James R Thompson Center, Chicago Title, Ford Center For Performing Arts, Chicago Theatre, Prudential Building, Aon Center, Chicago City Hall, Daley Civic Center, Macy`s, Chicago Cultural Center, Millennium Park Bandshell, Civic Opera House, Chicago Temple, Chicago Mercantile Exchange, Chase Tower, Carson Pirie Scott, Lasalle Bank Loop Theatre, Art Institute of Chicago, Encyclopaedia Britannica, Daley Civic Center, Auditorium Theatre, Buckingham Fountain, Blackstone Hotel, Grand Park, Deaborn Park, South Loop, John G Shedd Aquarium, Field Museum of Natural History, Burnham Park, Adler Planetarium, Soldier Field, Northerly Island, Chinatown and other objects. For any questions about this 3D model please contact me directly at andrewlock3d@gmail.com.This 3D object can be downloaded in .max, .obj, .3ds, .fbx, .dxf, .lwo, .stl, .wrl, .ma, .dae, .x and .asc file formats.
Categories: 3D Models, All 3D Models
Sorry, comments are closed for this item.