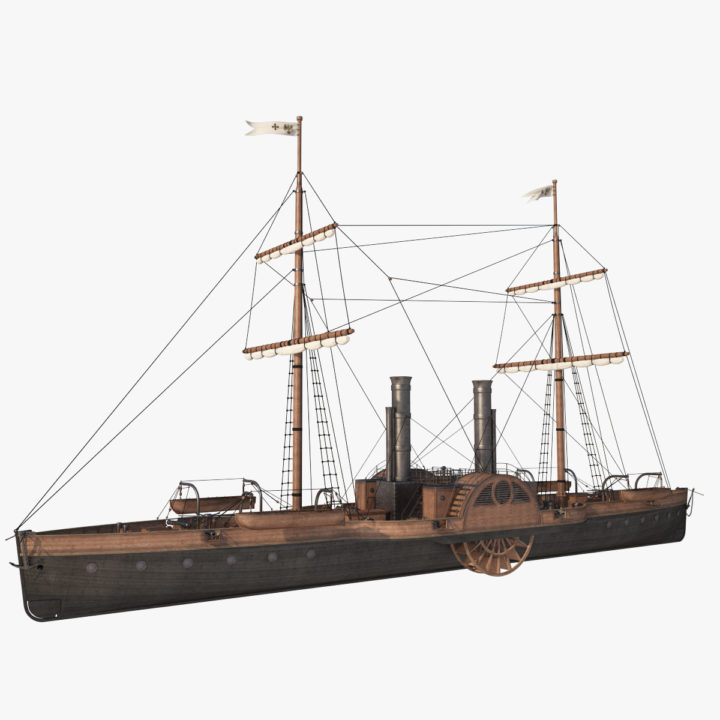 Steam ShipThe Radaviso SALAMANDER of the Prussian navy was built in 1857. She was equipped with two rudders and could drive equally forward and backward. She was used as coast guard ship and was armed with four 40-pounder cannons. Her overall length was 63 m.- The model based on Prussian Radaviso SALAMANDER- Highly detailed and realistic- All parts have unwrapped Uvs- Preview rendered with V-Ray 2.40- Scene with all Vray settings- polygons – 368 724(turbosmooth lv0);2 796 184(turbosmooth lv1)- vertices – 366 659(turbosmooth lv0);1 432 908(turbosmooth lv1) – 25 textures with resolution 1024×253(2), 2048×2048(14), 4096×4096(6) and 8192×8192(3)- Sea water material is included- Real world scale, units – centimeters- No Third-party plug-ins usedI hope you like it! Please rate this product if you're satisfied.You could also check out other models in my gallery.
Categories: 3D Models, All 3D Models
Sorry, comments are closed for this item.