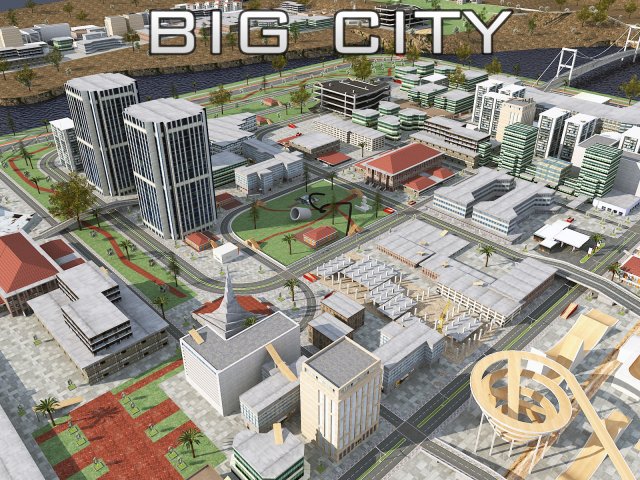 English Description:All are low polyl and carefully modeled, modeled and modeled for your use in Virtual Realty (VR), Argumant Realty (AR), Commercial, Architecture, Animation and Game projects.city_city_standart_v2.zip = FBX games for game development, VR, AR project. The stage is produced and produced to work in all 3D applications.city_city_vray_v2 = 3ds max 2015 and Vray compatible with render motor, Vray compatible. Available in other 3D software.In the city:Stunt areasBridges,Underground tunnel,Bends, Parks,Multi-storey car parks,RampsFrom the roof to the roof jump ramps,Highlandand there is more.Outside the city is carefully designed. It can be used as any projector kit model or as a projector kit.It is fully compatible with the union and other game engines. Display images from Unity on images.———————————————————————Türkçe Açıklama:Tamamı Low Poly'dir ve özenle modellenmiş olup , Virtual Realty (VR), Argumant Realty (AR), Ticari, Mimari, Animasyon ve Oyun projelerinizde kullanıma uygundur ve tek tek tasarlanıp modellenmiştir.sehir_city_standart_v2.zip = Oyun Geliştirme, VR, AR projeleri için uygundur FBX formatındadır. Sahne tüm 3D uygulamarında çalışacak şekilde tasarlanmış ve üretilmiştir.sehir_city_vray_v2 = 3dsmax 2015 ve Vray render motoruna uyumludur kaplamalar ,materialler ve sahne yapısı render ayarlarıyla beraber Vray uyumludur. Diğer 3D yazılımlarda kullanmak isterseniz sehir_city_standart_v2 dosyasındaki FBX formanı kullanabilirsiniz.Şehirde:Stunt alanları,Köprüler,Yer altı tünelleri,Virajlar, Parklar,Katlı otoparklar,Rampalar,Çatı dan çatıya atlama rampaları,Dağlık arazive daha birçok şey vardır.Şehirin tamamı özenle tasarlanmıştır. Çoğu model modüler kit tarzındadır ve başka biçimde veya başka projelerinde kullanıma uygundur.Unity ve diğer oyun motorlarına tam uyumludur. Görsellerde Unity'den alınmış ekran görüntülerini bulabilirsiniz.
Categories: 3D Models, All 3D Models
Sorry, comments are closed for this item.